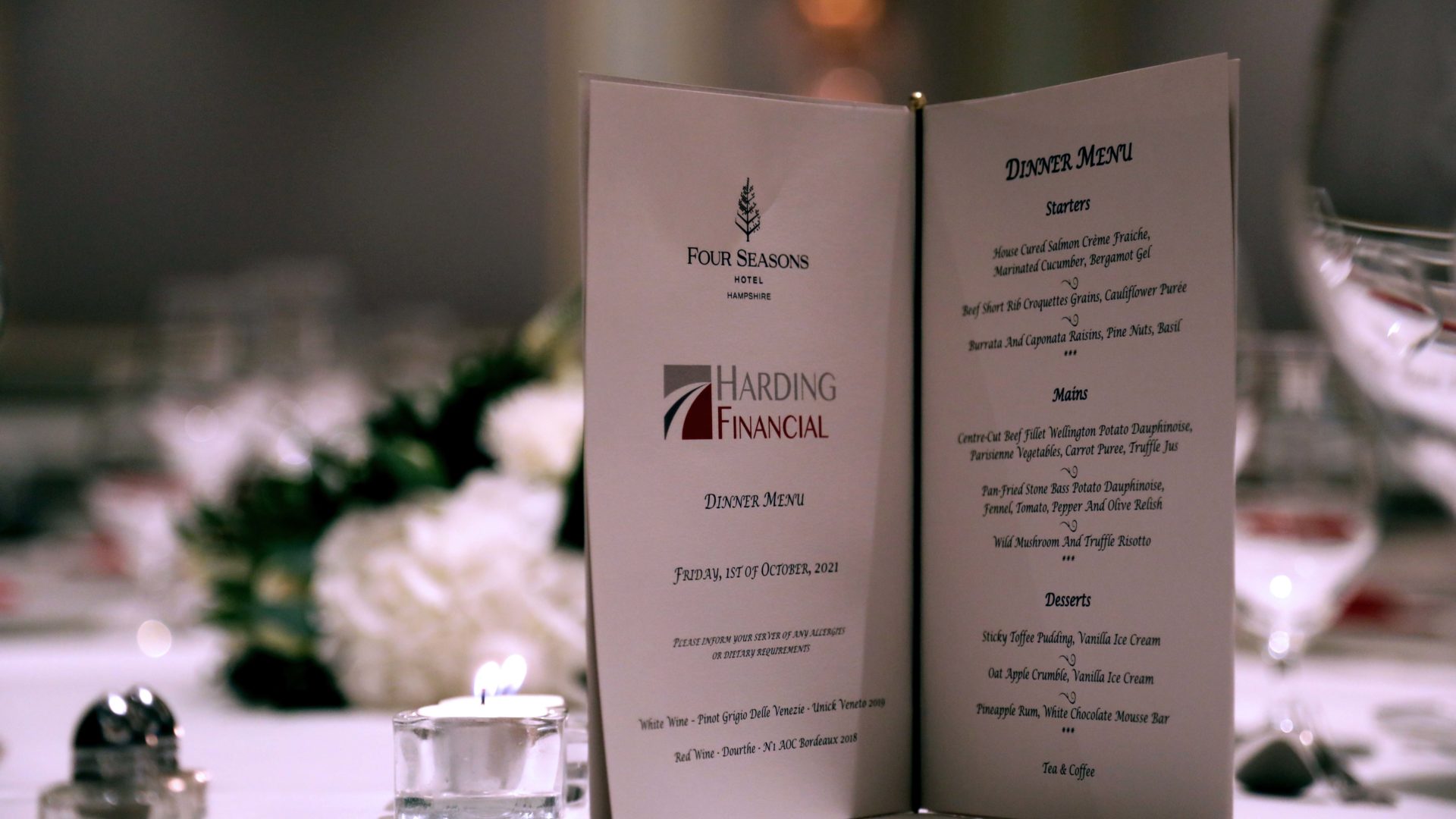 Harding Financials' 10 Year Anniversary celebration!
1st October 2021
Harding Financials' 10 Year Anniversary celebration!
As many of you are aware, Harding Financial first obtained direct authorisation from the Financial Conduct Authority on the 3rd October 2011. This year therefore marks the 10th year of trading for Harding Financial!

Due to COVID-19, the team had been apart for over 18 months, and we hadn't even been able to celebrate Christmas together. Therefore, we were keen to ensure that we made our 10 year anniversary extra special. So, on Friday the 1st October 2021, the Harding team and their partners were invited to celebrate our anniversary at the beautiful Four Seasons hotel in Hampshire.

The night began with reception drinks and scrumptious canapés in the foyer – who would have known that perfectly formed miniature shepherd's pie canapés actually exist! The guys looked super stylish in their black ties and the women donned their finest dresses and looked stunning. No Harding function would have been complete without Stanley, Alex and Helen's dog, who also sported a black tie for the occasion!
After canapés, everyone moved on to the private dining room, which was decorated in the Harding colours, complete with Harding branded balloons and cake. It looked magical, and in no time the waiters were busily topping up the glasses, and guests were tucking into their starters. Even Stanley got into the spirit of things as he quietly gnawed through the plastic opening of the food pouch that was thoughtfully left for him in a bowl for later; much to the horror of the panicked waiter who was a little startled at the mess Stan was making over the plush carpet! Despite fuel shortages and childcare issues, almost the entire team were there, and there was an excited buzz in the air as team members caught up after not seeing each other for quite some time, due to COVID-19 and home working.
Alex began his speech after the starters, and anyone who knows Alex, knows how he loves a PowerPoint presentation, and this occasion was no exception. It was brilliant to hear the journey of how Harding started, and to see pictures of the first modest office space at Sandford House in 2012, followed on two years later by pictures of PM House in 2014, which was prone to the occasional flood! Fast forward to 2016, when our Associate Director, Gemma, and her husband Phil were having a walk in Shalford and they spotted the early stages of the Estate Yard under construction. And the rest is history as they say, since Harding moved into the Estate Yard later that year and have been happily resident there ever since.
It was amazing to hear how Alex had the vision to start Harding Financial in 2011, joined shortly afterwards by Gemma in 2012, and to hear about how the firm has grown over the past ten years to a total of nineteen people today. Alex's passion for Harding Financial was palpable throughout his speech, and it was inspirational to see how he has remained true to his ethos of providing honest, transparent financial advice, ensuring that the client's needs are always at the core of everything he or his team does.
Not only has the team grown in the past ten years, but it was amazing to hear about how the services Harding offers its clients has also grown. From corporate benefits, long term care, mortgages to Define Benefit pension advice, and most recently adding Tax returns to the list of services. Harding certainly has been busy the past decade staying ahead of the curve in an attempt to offer the best value they can to their clients. It was especially interesting to hear about past acquisitions' that assisted in the growth of the business, and about the exciting opportunities for the future growth through Corporate Business.

After the speech, mains were served and there was much excitement for the infamous Four Seasons Beef Wellington, which certainly did not disappoint. Everyone wondered whether they would have room for dessert, but needless to say the guests persevered, and were soon enjoying a selection of sticky toffee pudding, white rum chocolate log or traditional apple crumble.

As the lights dimmed and the drinks were now freely flowing, the music began and our very own Raph was the first to boldly made his way to the dance floor. He was quickly followed by the entire team who enjoyed a fun-filled night marking this important milestone.

What a magical evening it was! We can't go into too much detail after this stage of the night, as that would be telling, but the antics included group singing, whilst doing a version of the Can Can, and 'he who shall not be named' amazed the onlookers with a spectacular backward somersault in the middle of the dance floor! Oh yes, at some point the guests were offered yet more food, as Alex handed out Harding branded biscuits, and everyone enjoyed a late-night birthday cake snack.











As the night drew to a close, the guests made their way back to their beautiful bedrooms, whereby at this stage of the evening (ermm... morning) the beds were a very welcome sight. Some eager team members surprisingly made it to breakfast the following morning, and there were even rumours that some people managed to play a game of tennis or enjoyed a brisk walk in the beautiful grounds, whilst the majority enjoyed a much-needed lie-in with coffee in bed.

A massive thank you to Alex for having the vision to start Harding Financial ten years ago at the tender age of twenty-five! And for all the hard work, determination, and sacrifices he has made over the past decade, to make Harding Financial the firm it is today. Thank you to each member of the team who has joined this journey along the way. Each one of you has bought a unique talent and specialism to the firm which has only added to what Harding stands for today.

And as we look towards the next ten years and beyond, it is with great excitement! Alex's innovative style and passion for streamlining services through the latest technology software means that we are in a position to offer clients a truly unique way of managing their finances… so watch this space!

And last, but certainly not least, a huge thank you to our wonderful clients who have shared this journey with us along the way. Without your loyalty, referrals, and feedback, none of this would have been possible.
Contact Us
Get in touch today
Call us, email, drop in, or fill in the form so that one of our expert advisers can be in touch.
We look forward to hearing from you and being your financial partner.
The Estate Yard
East Shalford Lane
Guildford
Surrey
GU4 8AE